Reminder - Today and Monday - Early Dismissal for Litchfield Schools. Grades K-5 dismiss @ 1:15. Grades 6-12 dismiss @ 1:30.

ATTENTION: LHS Summer School Students chromebooks need to be turned in by Monday, August 8th to Student Services to be ready for the start of the school year.


This is our final week for online registration! Registration will end on August 5th!. Log into Family Access to register. All school offices are now open for new student appointments or to provide assistance. We are looking forward to seeing everyone on the 12th!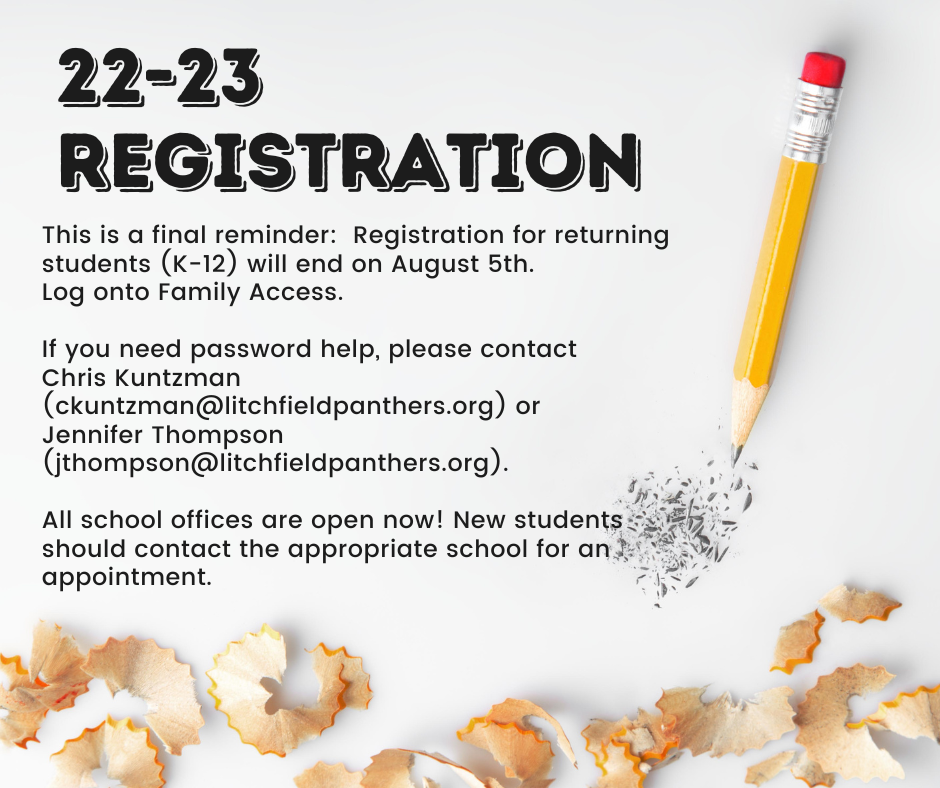 Reminder: Online registration is open for all returning students K-12 through August 5th. Log into Family Access to register. If you are new the district, please contact the appropriate school on August 1st for a registration packet.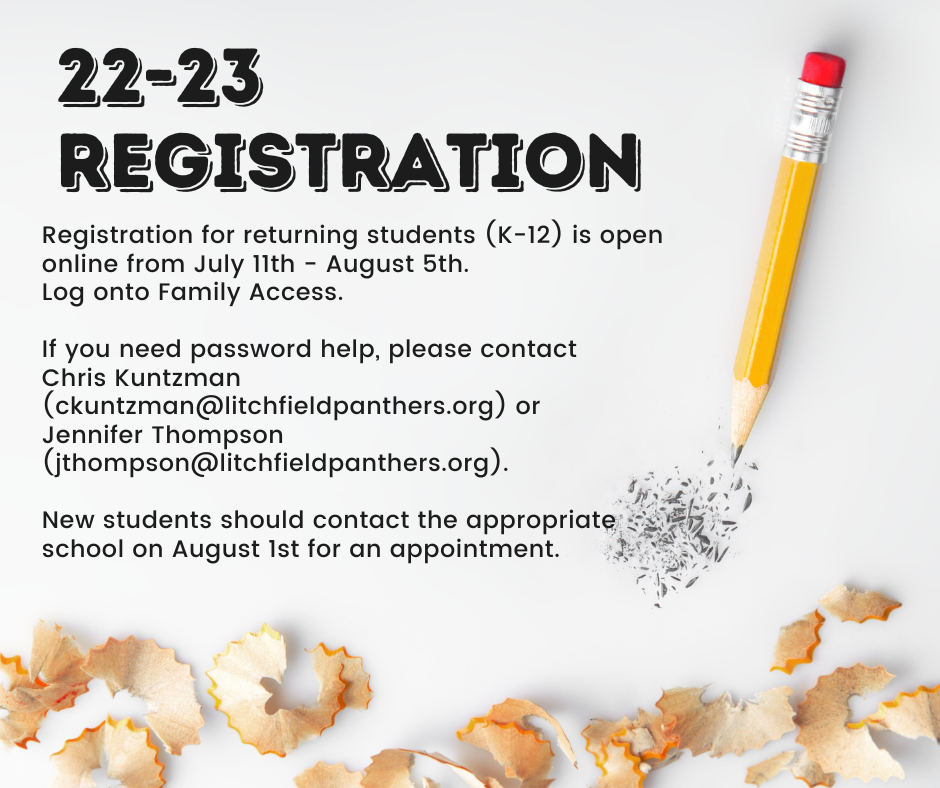 Online registration opens on Monday, July 11th for the 22-23 school year. It will be open up Friday, August 5th.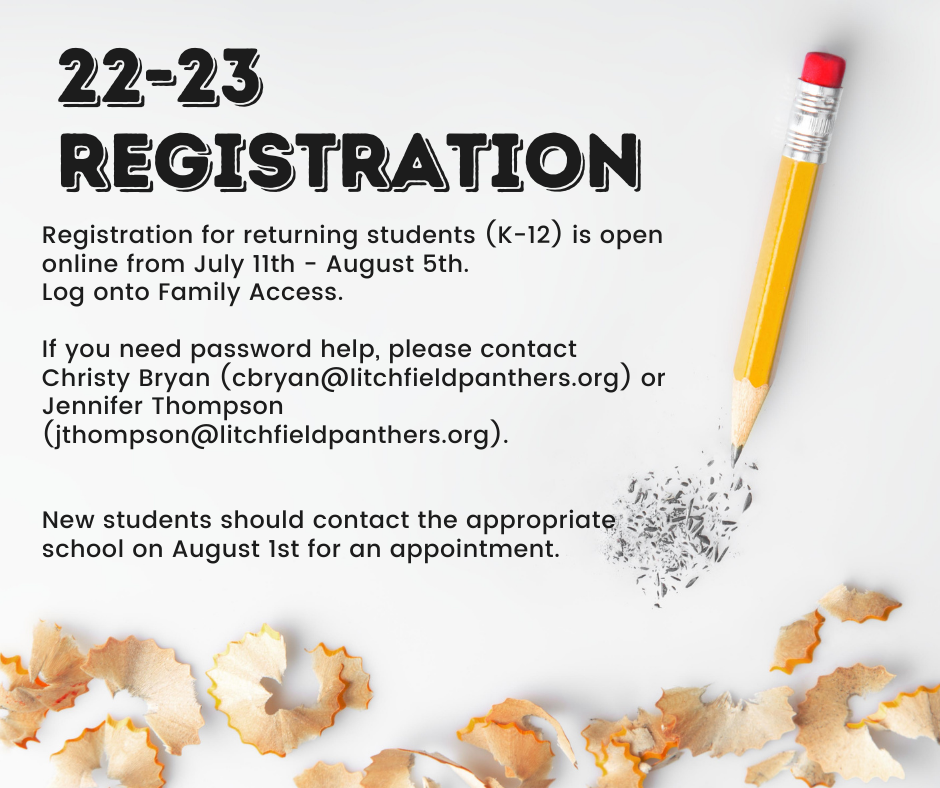 Reminder for Seniors: Grad practice is at 9 AM in the gym and students should bring their cap and gown for the senior walk after.

Semester 2 Finals Schedule Tuesday, May 17th 8:00-Breakfast/Arrival 8:10-9:30--1st hour final 9:40-11:00--2nd hour final 11:10-12:30--3rd hour final Wednesday, May 18th 8:00-Breakfast/Arrival 8:10-9:30--4th hour final 9:40-11:00--5th hour final 11:10-12:30--makeup final Thursday, May 19th 8:00--Breakfast/Arrival 8:10-9:30--6th hour final 9:40-11:00--7th hour final 11:00-11:20-Return to imPACT to turn in chromebooks and clean out lockers 11:20-12:40--makeup final Friday, May 20th (ONLY STUDENTS WHO HAVE A MAKE UP FINAL NEED TO ATTEND) Makeup Finals until 12:30 ****THERE WILL BE NO EARLY BUSES ON THESE DAYS**** ****GRAB & GO LUNCHES WILL BE AVAILABLE AT DISMISSAL****

The Graduating Class of 2022 announces an evening of reflection of Baccalaureate Litchfield High School Sunday, May 15, 2022 Doors open at 6:30 pm Service in Simmons Gym at 7 pm Speaker: Mr. Hughes Music: Mr. Cress

Decision Day Celebration LHS will celebrate all senior college, trade school, military, and career decisions. Monday, May 2nd 1:45-3:05 All parents are welcome to attend. We will have many photo opportunities! Clothing that acknowledges post-secondary decisions is encouraged. Parents should enter the school through the doors near the panther statue. Doors will be open at 1:30.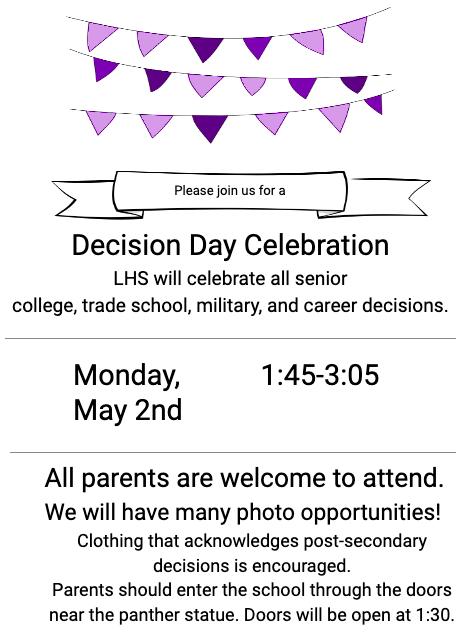 Parents, As you know, Freshmen and sophomores will be taking the PSAT and juniors will be taking the Illinois Science Assessment on Wednesday, April 20th. Please make sure your student is well-rested, has eaten breakfast, and arrives at school on time with 2 number two pencils and a calculator. They can bring a healthy snack and water to eat during the first break if desired. Students will be testing from 8am - approximately 1pm. The PSAT is a practice SAT that will give students indicators of their college readiness skills. If you have any questions, please contact Karen Cress at 217-324-3955 or
kcress@litchfieldpanthers.org
.

Just a reminder that a dental exam is required for grades K, 2nd, 6th, and 9th to be turned in by May 1st. Please contact your school nurse for any questions.

***IHSA Requirements Prohibit Streaming Today *** Due to IHSA requirements, the district is not able to stream today's regional game. IHSA retains streaming rights for these events. Game will be carried live on WSMI.

Due to road conditions, Litchfield schools closed Friday. This will be an e-learning day. Look for communication from teachers regarding assignments for the day. There will be no school on Monday for Presidents day. School will resume Tuesday at the usual time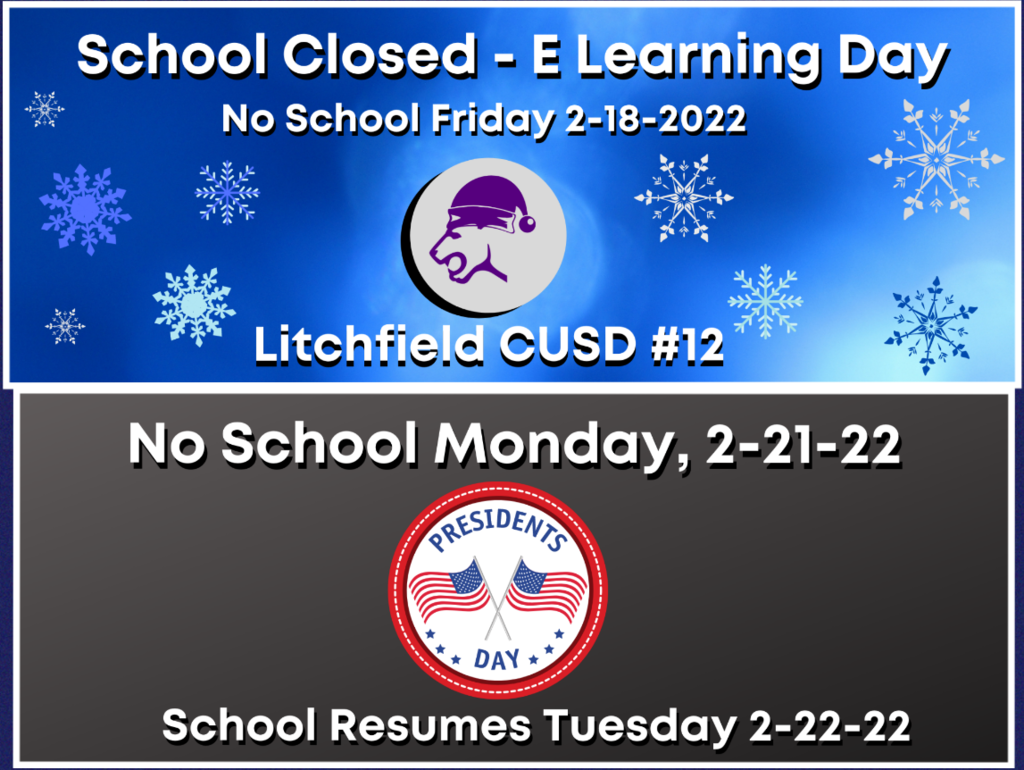 REMINDER: Early Dismissal TODAY *** Elementary @11:45 ***LMS&LHS @ 12:00*** NO PM PRE K*** No School Monday: MLK Holiday***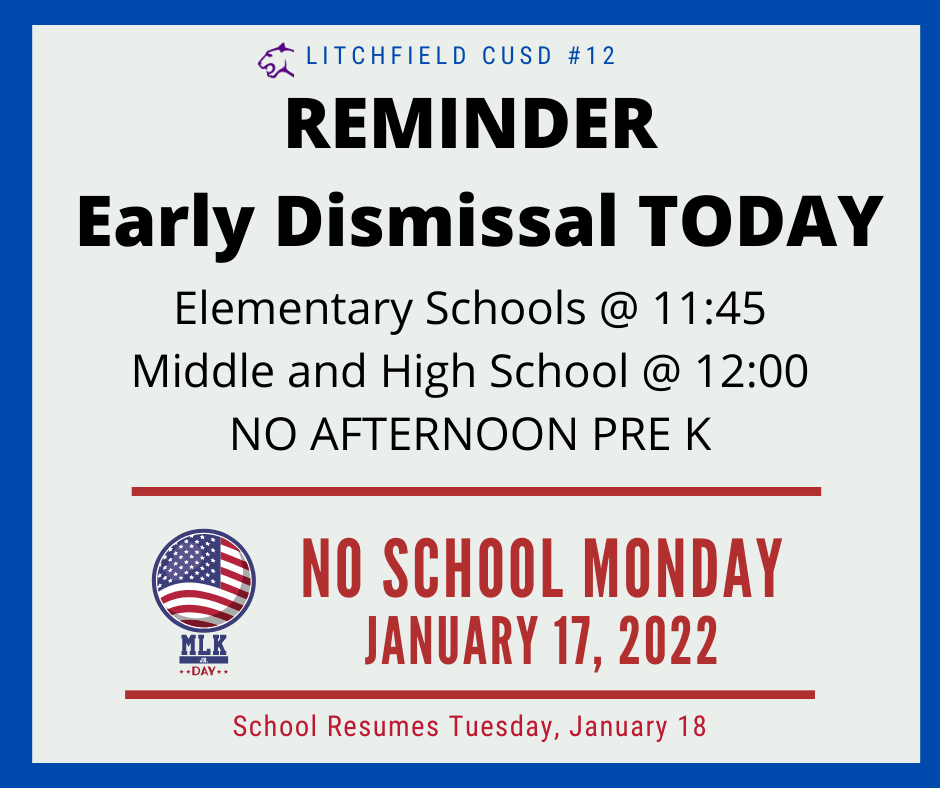 If your child in grades K-12 has been fully vaccinated for COVID 19, we encourage you to contact your child's school and share that information. Fully vaccinated students that are not showing symptoms have different requirements if they have been in close contact with a COVID positive individual when masked. In addition, please do not send your child to school with symptoms of illness and / or COVID. We appreciate your help as we continue to work to keep our schools open this week.

Free COVID rapid testing drive-thru on Monday 9-11 and 12-2 at LHS circle drive for any students or staff experiencing symptoms. Click the link for details and other updates.
https://www.lcusd12.org/article/616803